¸ber-cool see-the-site-before-you-click-the-link effect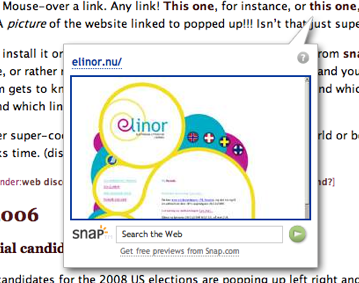 Oooh! Look!! Mouse-over a link. Any link! This one, for instance, or this one, or maybe this one. See!??? A picture of the website linked to popped up!!! Isn't that just super-cool!
All you do to install it on your blog or website is INSERT a line of code from snap.com in your html. It's free, or rather no money passes hands. Really it's a barter: I (and you) get a cool effect, and snap.com gets to know all about how many people visit this site and which links you guys hover over and which links you click. D'you mind?
File this under super-cool new web toys that will either change the world or be quietly forgotten in a few weeks time. (discovered at Craig Bellamy's blog)
Related