Being offended at joy or grief in social media
I wrote an opinion piece for Aftenposten this week arguing that we need to be more tolerant of people who share personal crises – or for that matter, personal happiness – in social media. Yesterday, journalist Kjersti Nipen did a great follow-up interview with me, which resulted in a two-page spread in today's Aftenposten, complete with a photo of me and the kids on our way down to Grønskjeret, because that's what we were doing when the photographer caught up with us – it's summertime, and the kids and I are off work and preschool for a few weeks.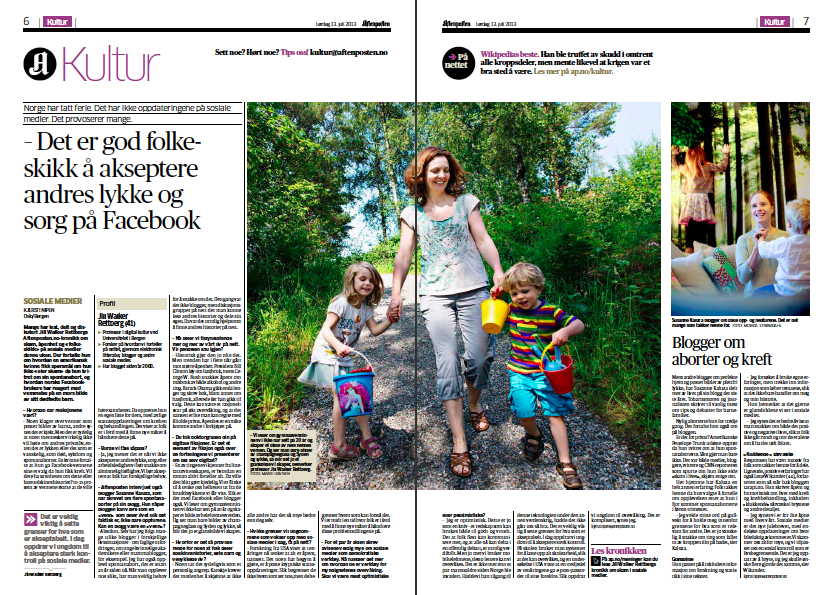 For non-Norwegian readers: the title of the interview is "Accepting other peoples' happiness and grief on Facebook is just common decency", which refers to the many, many complaints we keep reading, at least in Norway (how is this in other cultures?), from people who are deeply offended to read about their Facebook friends' cancer treatment side-effects or see photos of their babies or read about their chronically ill children or see another photo of that beautiful beach in Spain.
In the interview, Kjersti and I talk a bit about the comments to my op-ed, which I found very interesting. There were (predictably enough) plenty of people complaining about what they saw as annoying and , but also some very interesting counter-strategies, like the woman going through cancer treatment who asked her Facebook friends whether they wanted to be on the "truth" or "sunshine" list. About 15% answered "truth"; nobody asked for sunshine. So now those 15% get to hear the gory truth, and the other 85% just get boring, bland posts that couldn't possibly offend anybody.
I wonder whether the 85% now complain that Facebook is trivial and doesn't provide true connections?
It seems some people will be offended by anything other than the most vapid, boring posts in social media. And often the same people will complain that Facebook is trivial and doesn't provide true connections.
Unfortunately this piece is paper-only, though you may be able to read it on ATEKST if you have a university or library connection. The op-ed I wrote that this is a follow-up to is online-only, though, so you can read that: Skam og sosiale medier.
Related