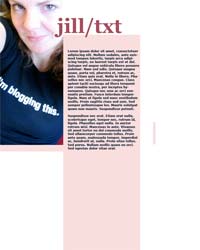 I generally prefer the playing around phase of maybe redesigning one's site to the nuts and bolts I-can't-get-the-CSS-to-work-in-Netscape part of it all. I'd like more colours and pictures. I wonder if I could get away with something like this and still get taken seriously. You know, as an academic. Probably not – it looks more like a teenager's intimate web diary. If I were a skilled graphic designer perhaps I could make it ironic, multivalent. That'd be cool
Another thing is that while I really want to keep the front page of my site a blog, it'd be nice if people could actually find stuff. You know, my publications, or what I think about weblogs and education, or the links for that talk they just heard me give. Anders Fagerjord (whose front page I love except it's not a blog) recently wrote about Derek Powazek's new design, which does combine a bit of bloggishness with photos and so on. Not quite me, though.
I tried making a banner to paste across the top of my site too, thinking I could just add that and not change the rest. It gives entirely the wrong signals, though. Well, not entirely. Just that they're not the only signals I want to be transmitting.
Related